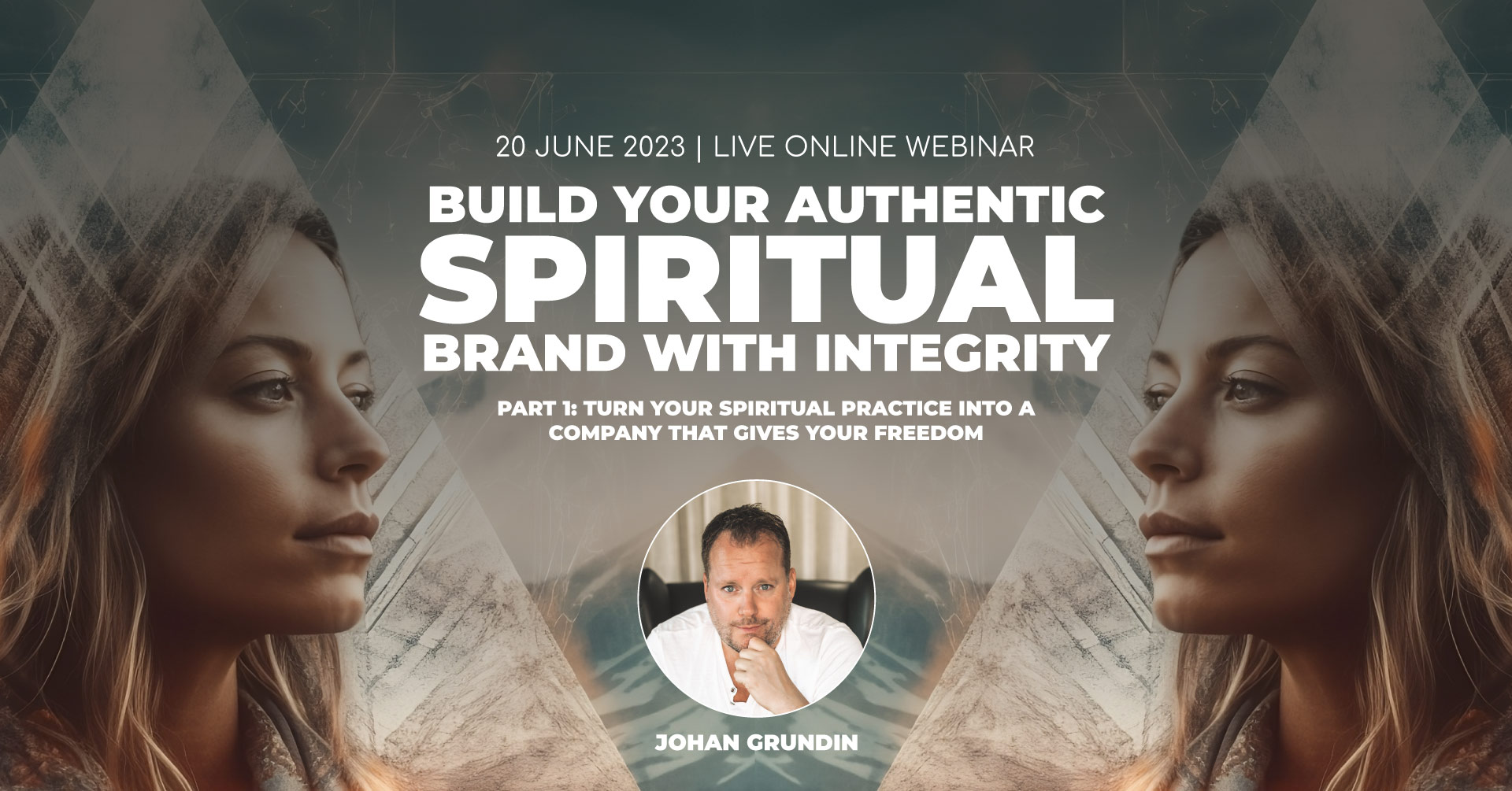 Live Online Webinar & Workshop with Johan Grundin
Build Your Authentic Spiritual Brand With Integrity - Authentic Soul Branding - Part 1
Part 1: Turn Your Spiritual Practice Into A Company That Gives Your Freedom
Welcome to "Authentic Soul Branding: Part 1 – Turn Your Spiritual Practice into a Company that Gives You Freedom." In this first installment of our series, we delve into the essentials of constructing an authentic spiritual brand that resonates with your audience while maintaining your integrity.
In a rapidly evolving world, the demand for spiritual guidance and connection continues to grow, providing an unparalleled opportunity for those passionate about personal development and spirituality.
If you're ready to transform your spiritual practice into a thriving business, this webinar will offer the tools and insights needed to create compelling content and branding that aligns with your core values.
Key Points and Takeaways
The importance of building a brand with integrity for long-lasting impact.

The significance of authenticity and genuine connection with your audience.

The role of values and ethics in your brand's growth and success.

Tips and tools on how to build a long-term successful company without using American Sales tactics.
Does and don'ts when building a spiritual brand.

Featuring Johan Grundin, a spiritual serial entrepreneur, this webinar will provide valuable tips, tools, and strategies for creating a flourishing spiritual brand.
Juicy secrets
Johan will also share some of the juicy secrets behind the success of Grow By Mia, which sold over 6,000 webinar tickets last year. The brand Johan was a big part of the building for six years.
Juicy secrets
This event is designed for everyone but tailored specifically for those in helping professions such as therapists, yogis, and coaches, this event aims to inspire and empower you to turn your spiritual practice into a business that provides the freedom to live a fulfilling life.
Bonus
Journaling Tips Until the Webinar Begins:
As we prepare for the webinar, we encourage you to engage in journaling to explore your thoughts, feelings, and aspirations related to your spiritual brand. Reflect on the following prompts to help guide your introspection:
What values and beliefs do you want your spiritual brand to embody?

How can you maintain authenticity and integrity while growing your brand?

What unique qualities and gifts do you bring to your spiritual practice that can be leveraged in your business?

Join us for this transformative event and embark on the journey to build an authentic spiritual brand that supports your purpose and passion.
DATE June 20, 2023
PRICE 20€ 
WHERE Zoom
CAN'T ATTEND? Don't worry. You will get access to a replay on our homepage the day after the webinar is finished.
TIME
Stockholm: 7:00 PM CET (19:00)
London: 6:00 PM BST (18:00)
Mumbai: 10:30 PM IST (22:30)
New York: 1:00 PM EDT (13:00)
Chicago: 12:00 PM CDT (12:00)
Los Angeles: 10:00 AM PDT (10:00)
Vancouver: 10:00 AM PDT (10:00)
Sydney: 3:00 AM AEST (on April 13) (03:00)
Tokyo: 2:00 AM JST (on April 13) (02:00)
Auckland: 5:00 AM NZDT (on April 13) (05:00)
Check your local timezone https://time.is/compare
HOW TO GET ACCESS
Purchase your event ticket, and all the necessary details will be displayed on our homepage as well as sent to you via email. For easy access to the webinar information and to view the replay, simply login to our website at www.growbyu.com.
Stay informed and never miss a moment of this transformative experience.
NEWSLETTER
When you register for this event, you will also be added to both Grow By U's upcoming newsletters. If you prefer not to receive these newsletters, you can easily unsubscribe when you receive the first one.
Johan Grundin is a passionate and authentic spiritual multi-entrepreneur who changes people's lives. With a total of over 20+ years in running different companies and over 10+ years of personal development, Johan has been inspiring and helping people for many years – offering them a unique opportunity to come closer to their greatest potential.
He has helped countless individuals and companies turn their dreams into reality through his teachings and has shown them the way to unlock their inner power.
He is an open-minded spiritual multi-entrepreneur who helps people and companies to create their own success while finding inner peace. Johan's unique approach combines practical business strategies with a spiritual perspective. That, together with magical marketing, tips, and tools to work smarter, he has a winning combination with real results.
All of his experiences in success, failures, and struggles, have made him a humble and appreciated mentor and business coach focused on living life to the fullest.
Johan runs the agency Next Step Media and a Business & Marketing school and community for conscious entrepreneurs who want to grow and expand.
Our mission is to help people become the best version of themselves by equipping them with the business knowledge, tools, and resources they need to make positive changes in their lives. We will provide mentoring and mastermind to known needs and goals, as well as workshops, seminars, and other activities designed to help you gain the most from your journey of self-improvement.
More about us and our membership on www.nextstepacademy.co and our marketing agency www.nextstepmedia.co