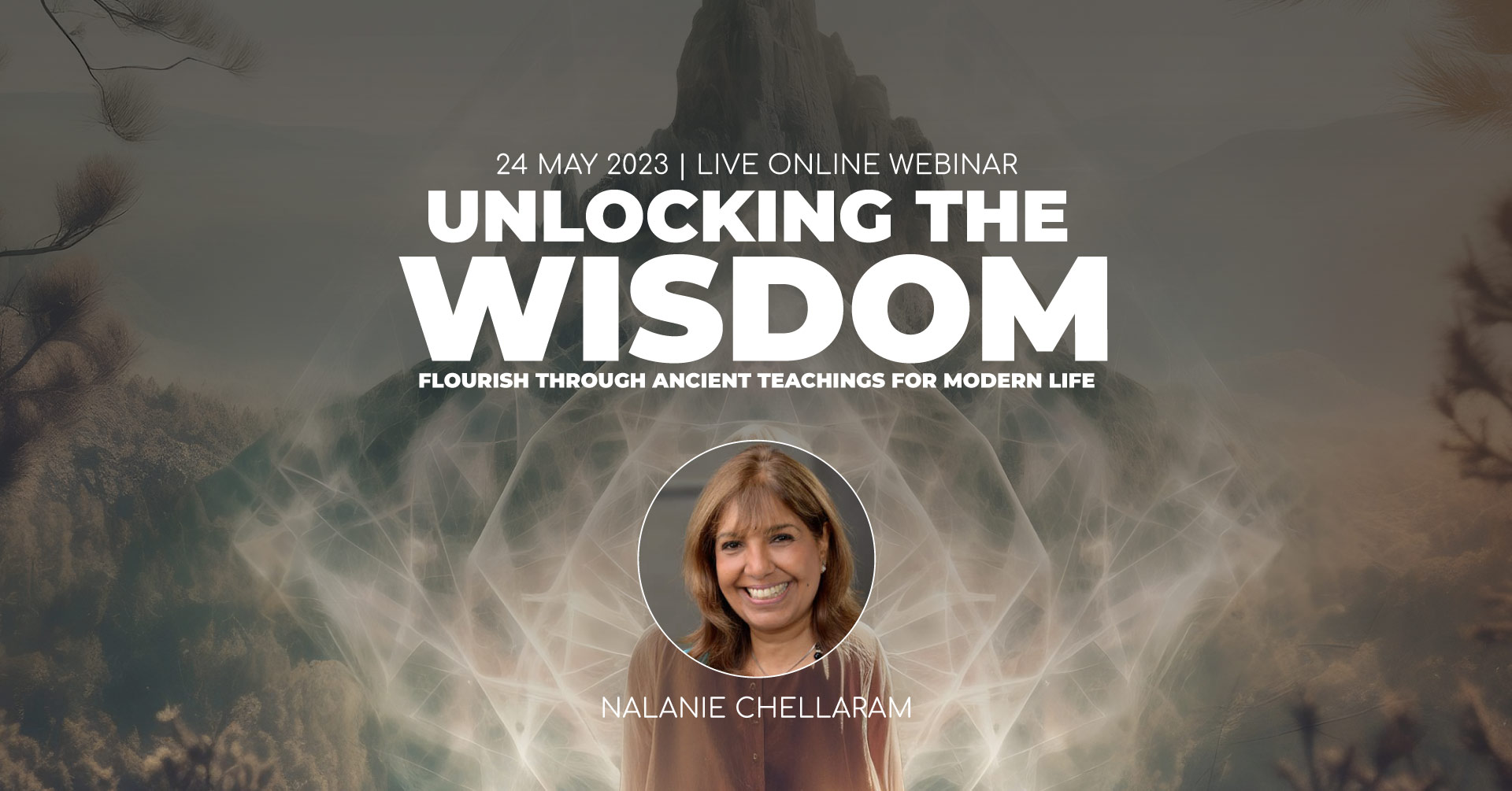 Live Online Webinar with Nalanie Chellaram
Unlocking the Wisdom Flourish Through Ancient Teachings for Modern Life
In today's fast-paced world, stress, anxiety, and the feeling of being overwhelmed can seem like constant companions. But what if we told you that the keys to unlocking a more balanced, peaceful, and fulfilling life lie within ancient teachings and timeless wisdom?
Join us for an enlightening and transformative online webinar that explores the power of the Bhagavad Gita and Yoga Sutra 1, and learn how to apply their profound wisdom to your modern life.
Led by the compassionate and experienced teacher, Nalanie Chellaram, this in-depth webinar will guide you through: 
Understanding the core teachings of the Bhagavad Gita and Yoga Sutra 1, and their relevance to modern life
Embracing the powerful practices of meditation, mindfulness, and self-inquiry to cultivate inner peace, resilience, and a deeper connection with your true self
Developing practical tools and techniques for managing stress, overcoming challenges, and nurturing your mental, emotional, and spiritual well-being
Integrating ancient wisdom into your daily routine, relationships, and decision-making for a more harmonious and purpose-driven life
Connecting with a supportive community of like-minded individuals who are on a shared journey of self-discovery, growth, and transformation
Takeaways from this transformative webinar include:
An appreciation for the timeless wisdom of ancient teachings and their ability to enhance and uplift your modern life
A deepened understanding of your true self, your innate potential, and the path to a more balanced, peaceful, and fulfilling existence
Practical tools and techniques for navigating life's challenges with grace, inner strength, and a sense of purpose
A renewed sense of motivation and inspiration, fueled by the powerful teachings of the Bhagavad Gita and Yoga Sutras
Don't miss this incredible opportunity to dive deep into the world of ancient teachings and harness their transformative power to create a life that aligns with your highest purpose.
Sign up now and embark on an inspiring journey of self-discovery, growth, and transformation that will leave you feeling empowered, centered, and ready to embrace your fullest potential!
You get instant access to this webinar when you buy the ticket. 
HOW TO GET ACCESS
Purchase your event ticket, and all the necessary details will be displayed on our homepage as well as sent to you via email. For easy access to the webinar information and to view the replay, simply login to our website at www.growbyu.com. 
Stay informed and never miss a moment of this transformative experience.
NEWSLETTER
When you register for this event, you will also be added to both Grow By U's upcoming newsletters. If you prefer not to receive these newsletters, you can easily unsubscribe when you receive the first one.
We are delighted to introduce Nalanie Harilela Chellaram, a modern spiritual teacher and Soul Doctor, to our platform Grow By U.
Born into a spiritual Hindu family in Hong Kong, Nalanie was educated at a Catholic Convent school and attended university in the United States. She is a disciple of Sri Swami Satchidananda ä, she is a qualified yoga therapist and is an accredited teacher of Asanas, Pranayama, and Meditation.
Nalanie's teachings are rooted in the philosophy of Yoga and are based on the principles of wisdom, compassion, and love. She offers her knowledge and guidance to help individuals improve their emotional, mental, and physical well-being. Her talks ("Satsangs") on spirituality and the science of the mind have become increasingly popular both locally and internationally.
Nalanie also leads Hatha and Raj Yoga Teacher Training Courses and is the founder of the "Service in Satchidananda" (SIS) initiative, a non-profit international collective of charities established in honor of Sri Swami Satchidananda and based on his core teaching of selfless service.
We are happy to have Nalanie as a teacher on our platform, and we look forward to sharing her teachings with our community.
Discover more about Nalanie on her website: https://nalanie-chellaram.com/  or connect with her on social media: https://www.instagram.com/nalaniechellaram/  Don't forget to explore her insightful Youtube channel: https://www.youtube.com/user/nalanieable  for a wealth of knowledge and inspirati